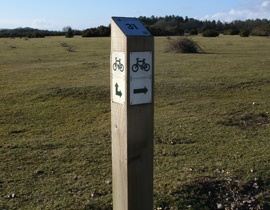 The New Forest has a networked cycle route of 170 kilometres. The first waymarked posts were placed along the route in the late 1980s allowing cyclists (visitors and locals) a safe way to explore both the open and inclosed areas of the forest, away from roads.
To manage better the access of cyclists on the Open Forest, Forestry England put together a bid with the New Forest National Park Authority (to fund 20% of the costs), to upgrade the existing waymarker posts, which showed signs of deterioration, were poorly located, and provided insufficient information. To replace the entire network, 525 waymarkers were required. Of these 220 posts were within the HLS agreement area.
The material for all the waymarker posts was locally-sourced New Forest Douglas fir. They were all produced by a team of Forestry England employed Forest craftpeople who worked at Burley Products during 2011-2012. A new design of waymarker post was commissioned, each one containing directional signage, a numbered plate with a QR code, that enables users to link directly to Forestry England's cycling webpage, when a smartphone device is used to scan the code. Another useful feature is a National Grid Reference which has been assigned to 100 posts which are located in key positions on the network.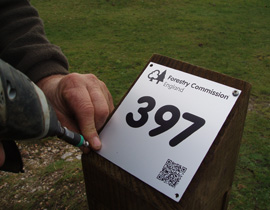 To publicise the network further a new cycle network map was produced with printed copies available from Tourist Information Centres or directly from the webpage.A final element of the project was the installation of 10 cycle counters to monitor the usage levels along the cycle network. The main objective is to inform future decision-making on how to best manage access to protect the Sites of Special Scientific Interest (SSSI) habitats of the New Forest, particularly where counters record locations where users stray off the network.