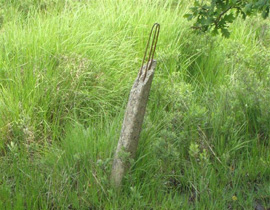 What
Along the route that was once the Holmsley railway line, approximately 1,000 old reinforced concrete posts remained in situ in various stages of decay and deterioration. A large number of the posts were sited along the bottom of the embankments where stock grazed, posing a hazard to their welfare and also the safety of any cyclists who now use part of this disused line which is now an established part of the popular New Forest cycle network.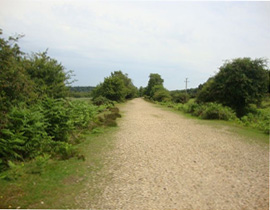 Where
The route of the works can be seen by viewing the map. The first phase of the project was carried out along the Burbush cycle route, where there were 600 posts to remove along the fence line which ran parallel to what was once the railway line, the dis-used track now formulates part of the cycle network.
The second phase of the project took place on the western side with the removal of 300 posts. This section of fenceline was along a narrower path, so to enable machine access, encroaching vegetation had to be cleared before the posts could be removed with a tracked excavator. This has now increased the grazing habitat.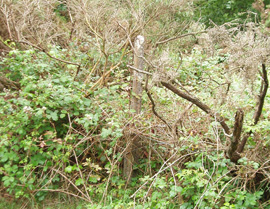 When
The works were carried out during October and November 2012. All of the removed reinforced concrete posts were loaded into skips, and removed from site with the materials going to waste recycling.
Latest update/final results
The removal of the posts has enhanced the look and aesthetical value of the landscape, and increased the amount of available grazing for commoning stock. The Site of Special Scientific Interest (SSSI) has been returned to a 'favourable condition' and has improved the safety for cyclists along this access route.