The HLS scheme is working to protect the New Forest's habitats and grazing from the damaging impacts of unauthorised driving and parking along road verges.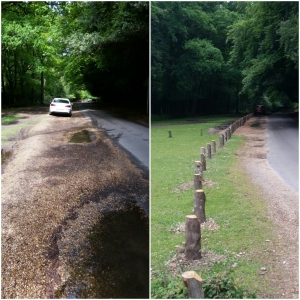 Why are we doing it?
The works are essential to protect important habitats of the New Forest and will restore areas of erosion caused by vehicle damage. Vehicles can cause serious damage to grass verges, harming the landscape and its ecological and grazing value.
Please have a look at the Verge Protection Leaflet for more information.
How can you help?
Please don't park on or drive over verges, and use designated car parks. There are 130 Forestry England car parks across the New Forest which can be used free of charge.
Upcoming work/updates: (See maps on the right for exact locations)
Bank and Gritnam. The majority of the works have been completed with a small section to be finished opposite Annesley House and outside of Allum View/White Cottage in autumn 2021. Works continue w/c 29 November 2021.
Blackfield, Bell Lane and Roughdown. Works scheduled 4-10 August 2022. The work in these areas is to stop unauthorised verge parking on the Forest, and vehicle overrun.  At Blackfield, dragons teeth/ditch and bank will be installed at the entrance track to the cemetery to stop entry onto the forest.  At Roughdown working with residents and FE estates team, resident parking is to be defined with dragons teeth to stop further erosion and compaction of tree roots.  Along the track there are several areas now eroded by cars which will be closed off, and car drivers encouraged to park in one of the nearby car parks at Blackwell Common & Dark Water. At Bell Lane, a barrier is to be installed opposite Roman Road House to stop unauthorised access by vehicles, and antisocial behaviour. Some measures will also be installed at the entrance to Bell Lane to protect the tree roots from further compaction and potential damage to the water meter by vehicles parking and driving over it. This work will be done in-house by  Forestry England.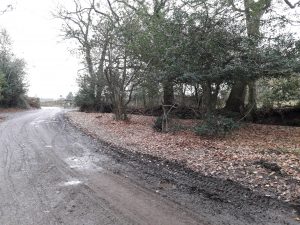 Boundway. Works to repair replacement parking damage starts w/c 29 November 2021.
Bramshaw. Some measures have been installed, with the remainder to be monitored over this winter.
Brockenhurst. Various protection measures have been put in place, but there is still a little to finish off in 2021.
Broadley – Wootton. Verge restoration works will begin w/c 9 May 2022 in the Broadley – Wootton Bridge area to protect the roadside verge from further erosion by vehicles.The work will include installation of some dragon's teeth, ditch and bank, moving a barrier and restoring damaged SSSI (Special Site of Scientific Interest).As this is a busy section of road, we will be working under a Hampshire Highways traffic consent using two-way traffic lights.  We apologise for any inconvenience this work may cause and thank you for your consideration and support.
Broomy Plain. An initial set of dragon's teeth and bollards were installed in spring 2019, and hedges cut to increase visibility. In January 2020, modifications included spacing out dragon's teeth, and removing them at the entrances and exits of passing places to increase manoeuvrability.

Brockenhurst allotments after

Brockenhurst allotments before

Burley village. Work at Bisterne Close, Coach Hill Lane and Forest Road starts w/c 29 Nov 2021. Working with residents and the Parish Council, a number of locations have now been  protected from verge erosion. Because of displacement parking, persistent vehicle trespass and inconsiderate behaviour, further measures are likely to be installed. The Verge Restoration Officer will continue to monitor the area and work with local residents to ensure that any verges persistently verge parked are protected.

East End. Some measures are in place, although there are a couple of small areas to complete.
Eyeworth/Powder Mill Barrier. Extended bell mouth previously narrowed using dragon's teeth and ditch & bank. Some displacement parking either side extending up to the crossroads and down the hill to Godshill. Further measures will be necessary to stop further erosion from persistent verge parking, and are to be put in place by Forestry England in due course.
Godshill. See Woodgreen below.

Vehicle erosion at Godshill

Holmsley Road. Work starts w/c 29 November 2021 – replacing dragon's teeth and additional measures due to vehicle erosion.
Longcross. Currently being monitored prior to any work taking place.
Nomansland. Measures installed, although there are still a couple of areas that need some tweaking.
Old House, Burley. A barrier will be installed at the entrance to Old House unauthorised vehicle access and verge parking. New signage and some dragon's teeth will also be installed to protect badly eroded areas. Work is likely to take place in the late summer / early autumn 2021.
Pipers Wait to Longcross. Monitoring and education of verge parkers.
Rufus Stone. Work to extend parking to the verge starts w/c 29 November 2021.
Shobley and Lindford. Work starts w/c 29 November 2021 due to displacement parking.
Straight Mile (South of South Bentley Inclosure). Currently being monitored prior to any work taking place.
Woodgreen and Godshill. Working with the Parish Council, residents and local users, we have identified areas needing some intervention to stop further erosion by vehicles.  These areas will be worked week beginning 13 June 2022, with most of the work comprising installing dragon's teeth (small chestnut posts).

Verge before work at Woodgreen

Vehicle damage to a verge at Woodgreen
Completed work:
Ashurst Lodge – barrier and dragon's teeth to prevent unauthorised vehicle access. Access through the barrier to private and commercial properties only. There is no public parking, the nearest car parks are Bolton's Bench, Lyndhurst, Matley and Busketts Lawn.
Aldridge Hill – displacement parking along the access road outside of Beechern Wood and Ober Corner car parks and blocking access to camp site and properties – dragon's teeth installed. Monitoring to continue, further work may be necessary.
Boundway – work was carried out either side of the car park to prevent verge  parking.
Broomy single carriageway with passing places – dragon's teeth work completed. HCC safety audit received, monitoring to continue.
Burley village – working with residents and the Parish Council, a number of locations have now been  prot

ected from verge erosion.

Bisterne Close, Burley, before

Bisterne close, Burley, after
Coxhill, Boldre – dragon's teeth installed to prevent damage from cars parking.
Denny Wood Campsite – barrier and signage installed to prevent unauthorised vehicle access. Access through the barrier is for campsite and residential access only. Limited parking is available around the Warden's Office from October to March.
Densome Corner – dragon's teeth installed to prevent damage from cars parking.
East Boldre – Main road – 

verge restoration measures put in place, along with signage.

Emery Down Road at  Holidays Hill Inclosure and up towards Bolderwood – dragon's teeth installed to close informal parking areas.
Fritham – measures have been installed to stop vehicle trespass and further verge damage.
High Corner and Red Shoot. Dragon's teeth have been installed around the High Corner Inn to stop further compaction of tree roots and along the access track where persistent parking has occurred.  Similar work was also completed at the Red Shoot Inn to protect the forest from further damage and to give it chance to recover. The Verge Restoration Officer has worked closely with businesses in the area to ensure that there was minimal disruption while the work was carried out.
Kings Copse and Gatewood –  both areas have now been ditched and banked with bank at roadside, restoring approximately two square kilometres of roadside verge.
Norleywood – a number of locations around Norley were identified as needing restoration. These areas have now had dragon's teeth installed to stop further vehicle trespass and erosion.
Ocknell – adjacent to Ocknell campsite the recently restored area has now been protected with dragon's teeth to stop vehicle trespass.
Pilley and Pilley Bailey. Work has been completed along the main road to protect the green, roadside verges, and around some properties from vehicle overrun. Work at Pilley Pound was completed in January 2021, but due to removal of dragon's teeth and some displacement parking, extra measures had to be installed in June.  A barrier has been installed on the access track to the pound and signage "Strictly no verge parking – access to private properties only."  Opposite the pond, an additional sign was installed with similar "no parking" message. The Verge Restoration Officer will continue to monitor the area to ensure that the measures in place are adequate.
Roger Penny Way – several inclosure gates and barriers have now had their entrances reduced, along with a number of informal eroded laybys removed.
Rufus Stone and opposite Sir Walter Tyrrell – the extended laybys at Rufus stone just off the A31 have now been closed off. Opposite the Sir Walter Tyrrell pub the old barrier has been removed from the corner and a new one installed directly opposite the pub; and dragon's teeth installed to remove the eroded layby.
Slufters Inclosure – several eroded areas now closed off with dragon's teeth to stop verge parking.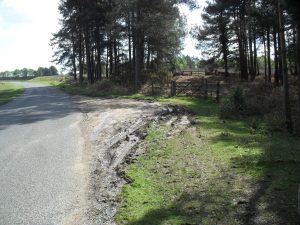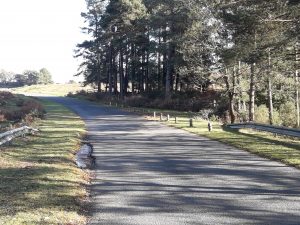 Stoney Cross – measures installed opposite Janesmoor car park, reducing the bell mouth to the barrier.
Telegraph Hill/RSPB Franchises. Verge Restoration Officer working with residents and RSPB. Dragon's teeth have now been installed to prevent vehicles overrunning the access tracks and also trespassing on to the SSSi – work completed May 2021.
Vereley – Dragon's teeth have been installed to define the track and to stop vehicles parking under the trees, causing further compaction of the tree roots.
Woodgreen – dragon's teeth installed to prevent informal parking which was causing verge damage.
What can parishes do?
Look at verges within their parish boundaries that are suffering from overrun. These could be narrow strips outside houses or wider verges in villages, they must be within the perambulation and grazed to be considered. Parishes are requested to mark up a map where they have identified damaged verges and send it to:
Jayne Albery (Verge Restoration Officer)
Forestry England
South England District Office
Queens House
Lyndhurst
SO43 7NH