The HLS scheme is working to protect the New Forest's habitats and grazing from the damaging impacts of unauthorised driving and parking along road verges.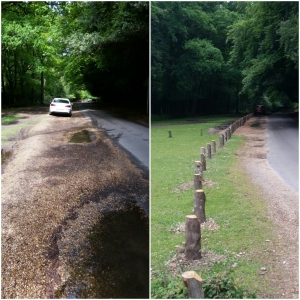 Why are we doing it?
The works will restore areas of erosion caused by vehicle damage, essential under the Forestry Commission's legal duty to protect the New Forest. Vehicle damage can cause serious damage to grass verges and have a harmful impact on their landscape, ecological and grazing value.
Please have a look at the Verge Protection Leaflet for more information.
How can you help?
Residents can help by not parking on or driving over verges, and park within their own property, not on the forest outside their fence, and use designated car parks.
Work so far
Planned work
Boundway – work will start either side of the car park on 5 November to prevent verge parking
East Boldre, Pilley, Norley & East End – discussing planned works with parish council and partners
Burley village, Stoney Cross and Fritham – identified as needing work
What can parishes do?
Look at verges within their parish boundaries that are suffering from overrun. These could be narrow strips outside houses or wider verges in villages, they must be within the perambulation and grazed to be considered. Parishes are requested to mark up a map where they have identified damaged verges and send it to:
Jayne Albery (Verge Restoration Officer)
Forestry Commission
South England District Office
Queens House
Lyndhurst
SO43 7NH